"Mighty methyl" is our local lab name for methyl carborane reagents, CH 3 (carborane). They are stronger methylating agents than "Magic Methyl" or methyl triflates and are so electrophilic that they abstract H - from alkanes at -30°C to give methane and isolable carbocations. See Kato et al. J. Am. Chem. Soc. 2004, 126, 12451 . Currently, we are targeting a number of methylation reactions that are unsuccessful with methyl triflate or "Magic Methyl".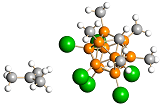 Isolation of the t­ -butyl cation in [Me 3 C + ][CHB 11 Me 5 Cl 6 ].
See T. Kato et al. , Angew. Chemie Intl. Ed. 2004, 43 , 2908 .